Andreas Trawöger, born 1974, living in Vienna is in the constant search on how to use things for purposes they weren't originally indented too. In recent years he has tried to bring democratic decision models to Vienna's netculture scene, put laptops into primary schools and ended up flying kites and making panoramic photos while doing so.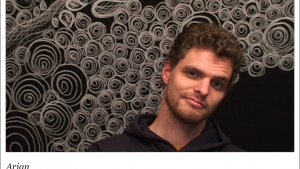 Arjan Scherpenisse is a part-time student at the Gerrit Rietveld Academy, graduating coming July with an installation consisting of 72 centrally-controlled VGA monitors, using self-built electronics. While his current passion lies in combining the virtual with the physical using electronics, his background is in software engineering and Open Source software. Currently he is employed by Mediamatic Lab, Amsterdam. Together with Eelco Wagenaar he has been part of Transmediale'09 in Berlin and ISEA2008 in Singapore, with the virtual/physical interactive game "PING".

Christoph Haag studied design at the KHM/Department of Hybrid Space.
Today he lives and works as a designer in Augsburg.

A futuristic expatriate American Space Ranger combines wearable computing, midi guitar, and live energy to wander the digi-range as a robotcowboy playing for dying astronauts. This is a lofi-guitar-compu-show with algorithmic balls from a DEVOspud, laptop-stomping idiot wearing exposed electronics.
Dan Wilcox:
"You can download Pure Data for free and use it, its open source. You can also download my personal patch library I use to create my music in PD"

Daniel Turing (not related to Alan), born 1976, lives and works in Weimar and wherever there's electricity. He ponders questions of
surveillance, privacy and aesthetics that arise with the interplay of
humans and computers. His output consists mostly of (open-source)
software, occasionally interspersed with interactive installations or
endeavours into more traditional media.

***
David Ayers hat in den letzten 10 Jahren Erfahrungen in der
Implementierung von Enterprise Resource Planning (ERP) Systemen für
Kleine und Mittelständische Unternehmen gesammelt. Derzeit
implementiert er Unternehmenslösungen mit Freier Software. Seit 2006
ist er aktives Mitglieder des österreichischen teams der Free Software
Foundation Europe.
***
David Ayers has gathered experience in implementing Enterprise Resource
Planning applications for small to medium sized businesses for more than
ten years. Currently he implements business solutions based on Free